Rovinj ist eine wunderschöne Stadt am adriatischen Meer. Bestimmt hast Du schon einmal von ihr gehört!
Die auf einem ins Meer ragenden Hügel erbaute Altstadt von Rovinj mit ihren hohen ineinander verschachtelten Häusern und dem dichten Geflecht aus verwinkelten Gassen ist ein wahres Bilderbuchstädtchen!
Rovinj wurde im 2. Jahrhundert von den Römern unter dem Namen "Ruginium" auf einer kleinen Insel vor dem Festland gegründet. Ab dem 7. Jahrhundert wechselte die Herrschaft über die Stadt ständig und sie bekam den Namen "Rovigno". Ab dem Jahr 1283 gehörte die Stadt zur Republik Venedig und gewann an Einfluss und Reichtum. Am Ende der Republik Venedig wechselte die Herrschaft erneut mehrfach. Nach dem Zweiten Weltkrieg wurde die Stadt in Rovinj umbenannt und seit 1991 gehört sie zur Republik Kroatien.
Die abwechslungsreiche Geschichte hat das Stadtbild Rovinjs stark geprägt. Besonders die zahlreichen Bauten aus der venezianischen Herrschaft sind gut erhalten und prägen das heutige Stadtbild.
Nur wenige Meter von der großen Hafenpromenade entfernt liegt der Stadtplatz "Marschall Tito Platz". Hier befinden sich das historische Rathaus und der rote Uhrturm "Torre dell'Orologio". Der Uhrturm wurde im 12. Jahrhundert erbaut und war ursprünglich der Südturm der Stadtmauer von Rovinj. Noch heute ist er mit einem Relief des venezianischen geflügelten Löwen und großen Uhren geschmückt.
Direkt gegenüber des Uhrturms befindet sich der "Porta Balbi". Dieser wurde an der Stelle eines alten Stadttors errichtet und ist heute das Tor zur Altstadt. Auch den "Porta Balbi" schmücken ein geflügelter Löwe der Venezianischen Republik und zwei große Wappen.
Hinauf in die Altstadt von Rovinj führen Dich Gässchen mit Steinpflaster und zahlreiche Treppchen. Oben angekommen erwartet Dich der Kirchplatz mit der Kirche der Heiligen Euphemia. Die Heilige Euphemia ist die Schutzpatronin der Stadt Rovinj sowie Istriens!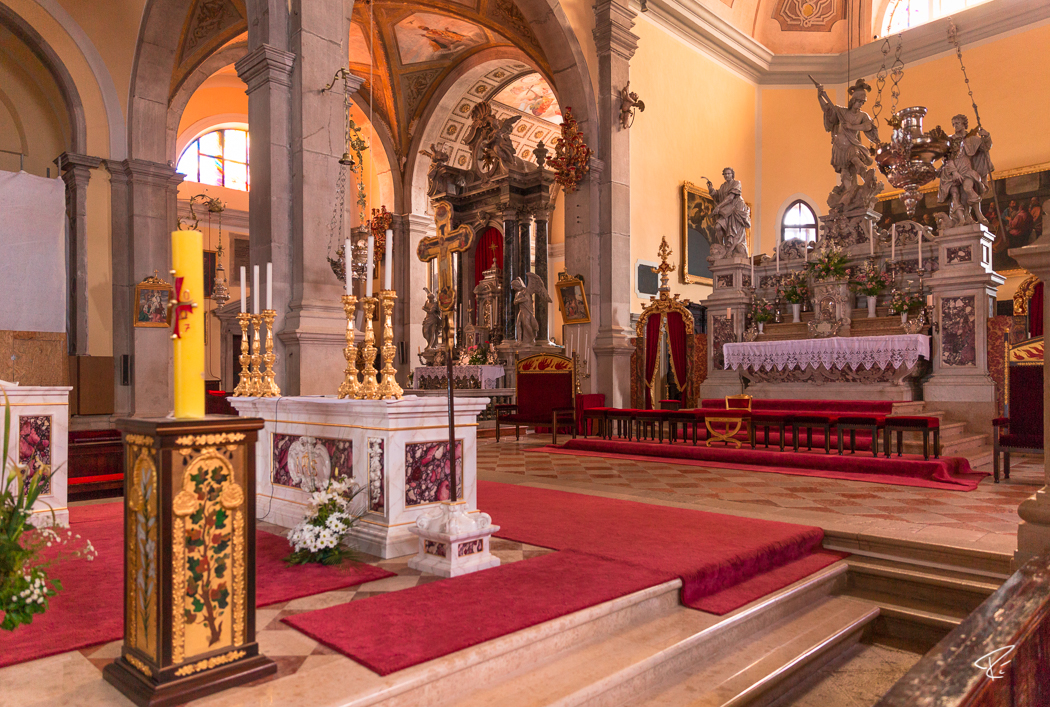 Derzeit wird die Kirche innen und außen renoviert. Das sollte Dich jedoch nicht davon abhalten, sie zu besichtigen!
Die beste Sicht auf Rovinj und die umliegende Adria hast Du vom 60 Meter hohen Glockenturm der Kirche. Besteige ihn und lasse Deinen Blick schweifen!
Die hölzerne Treppe hinauf in den Glockenturm hat es jedoch in sich! Sie ist sehr steil und hat sehr schmale Stiegen!
Das Äußere des Glockenturms ist dem Campanile di San Marco in Venedig nachempfunden und an seiner Spitze dreht sich im Wind eine Kupferstatue der Heiligen Euphemia.
Rovinj ist bekannt für seine vielen Künstler. In der Altstadt befinden sich zahlreiche Künstlerateliers und Werkstätten einheimischer Künstler, die dort ihre Werke ausstellen und verkaufen.
Fischfang ist ein wichtiger Wirtschaftszweig in Rovinj. Die Mehrzahl der Fischerboote sammelt sich im südlichen Hafen.
Du bist Frühaufsteher? Dann nutze die Möglichkeit und beobachte die Fischer bei ihrer Rückkehr in den Hafen und beim Entladen ihres Fangs!
Natürlich solltest Du auch die köstlichen kroatischen Fischspezialitäten probieren! Sie schmecken ausgezeichnet!
Vor Rovinj liegen zahlreiche Inseln. Die größte von ihnen ist die Insel "Sveta Katarina" südlich der Altstadt. Sie und die anderen Inseln erreichst Du nur mit dem Wassertaxi. Diese legen im Hafen von Rovinj ab und bringen Dich in wenigen Minuten zu Deinem gewünschten Inselziel.
Ein weitläufiger Park in unmittelbarer Nähe zur Stadt darf natürlich auch nicht fehlen. Nur wenige Gehminuten von der Altstadt entfernt liegt der Waldpark "Punta Corrente". Dieser hat viele kleine Badebuchten, steile Felsklippen und eine attraktive Grünanlage.
Je südlicher Du gehst, umso ruhiger und abgeschiedener wird es!
Rovinj zieht seit Jahrzehnten immer mehr Touristen an und die Mehrheit davon kommt jedes Jahr wieder als treue zufriedene Gäste!
Du fragst Dich, was Du als nächstes besichtigen könntest?
Die Region um Rovinj bietet Dir vielfältige Möglichkeiten!
Limski Kanal
Poreč
Pula
Warst Du schon einmal in Rovinj?
Hat es Dir genauso gut gefallen wie mir? Lass es mich wissen!
Have you ever been to Rovinj?
Did you enjoy it as much as I did? Let me know!
Dir hat dieser Beitrag gefallen?
Dann teile ihn mit Deinen Freunden auf Facebook und Pinterest!
You enjoyed this post?
Share it with your friends on Facebook and Pinterest!