Koblenz ist eine beeindruckende Stadt. Schon vor 2000 Jahren nutzten die Römer den günstig gelegenen Ort am Zusammenfluss von Mosel und Rhein um eine Siedlung zu gründen.
Im Laufe der Geschichte hat Koblenz viel erlebt. Römer, Bischöfe, Kurfürsten, Kaiser und diverse Kriege haben das äußere Erscheinungsbild der Stadt ständig verändert.
Heute zählt die Stadt nicht nur zu den ältesten Städten Deutschlands, sondern auch zu den schönsten Städten Deutschlands.
Besonders bekannt ist Koblenz für sein "Deutsches Eck". Es ist das Wahrzeichen der Stadt. Auf einer künstlich aufgeschütteten Landzunge am Zusammenfluss von Mosel und Rhein wurde im Jahre 1897, auf Anordnung von Kaiser Wilhelm II., ein monumentales Reiterstandbild des ersten Deutschen Kaisers Wilhelm I. als Denkmal zur Deutschen Reichsgründung 1871 errichtet. Das Denkmal besitzt eine Gesamthöhe von 37 Metern, wovon 14 Meter auf das Reiterstandbild entfallen.
Südlich des Deutschen Ecks, inmitten einer Grünanlage, befindet sich die Basilika St. Kastor. Diese, in der ersten Hälfte des 9. Jahrhunderts gegründete Kirche, ist die bedeutendste und älteste katholische Kirche in der Koblenzer Altstadt. Ihr heutiges Erscheinungsbild hat sie jedoch erst im 12. und 19. Jahrhundert erhalten.
Östlich der Basilika beginnen die "Rheinanlagen". Dort laden ausgedehnte Grünflächen den Besucher zu gemütlichen Spaziergängen mit besonderem Ausblick ein. Die Uferpromenade ist Ausgangspunkt zahlreicher Schiffsrundfahrten auf Rhein und Mosel. Die Talstation der Seilbahn Koblenz befindet sich ebenfalls dort.
Die Seilbahn Koblenz ist eine Luftseilbahn über den Rhein. Seit Mitte 2010 verbindet sie die Rheinanlagen auf Höhe der Basilika St. Kastor mit dem Plateau der Festung Ehrenbreitstein. In 4 bis 5 Minuten gelangt der Besucher gemütlich auf das Plateau und legt dabei einen Höhenunterschied von 112 Metern zurück. Der Preis für die Fahrt (inkl. Rückfahrt) beträgt derzeit 9 Euro.
Die Festung Ehrenbreitstein ist eine seit dem 16. Jahrhundert bestehende Befestigungsanlage auf einem 118 Meter hohen Bergsporn im Stadtteil Ehrenbreitstein gegenüber der Moselmündung. Seit ihrem Bestehen beherrscht sie das Koblenzer Stadtbild. Anfang des 19. Jahrhunderts wurde die Festung unter preußischer Führung erheblich ausgebaut und wurde Teil der "Festung Koblenz", einem der größten Bollwerke am Rhein.
Nach dem Ersten und Zweiten Weltkrieg besetzten amerikanische sowie französische Truppen die Festung.
Heute wird die Festung für verschiedenste Veranstaltungen (z.B. Bundesgartenschau 2011) genutzt und ist für Besucher geöffnet. Der Eintrittspreis beträgt derzeit 11,80 Euro (Kombiticket Festung und Seilbahn). Ab 18 Uhr herrscht freier Zutritt zu den Außenanlagen der Festung. Der perfekte Ort um den Sonnenuntergang über der Stadt zu genießen!
Zu Füßen der Festung am Ufer des Rheins stehen die Überreste des prachtvollen Schlosses Philippsburg. Das ehemalige Schloss war eines der bedeutendsten Barockbauten am Rhein und von 1632 bis 1786 Wohnsitz der Kurfürsten und Erzbischöfe von Trier. Im Jahre 1801 wurde das Schloss jedoch schwer beschädigt und daraufhin leider abgerissen. Heute erinnern nur noch die zum Schloss gehörenden Nachbarbauten Pagerie, Dikasterialgebäude, Krummstall und Marstall an das prachtvolle Schloss.
Auf der anderen Rheinseite, an den Rheinanlagen liegt das Kurfürstliche Schloss. Dieses wurde am Ende des 18. Jahrhunderts als Nachfolgebau des Schlosses Philippsburg vom letzten Erzbischof und Kurfürsten von Trier, Clemens Wenzeslaus von Sachsen, erbaut und diente diesem als Residenz. Ein weiterer bekannter Bewohner war der preußische Kronprinz und spätere Kaiser Wilhelm I..
Heute gilt das Schloss als eines der bedeutendsten Schlossbauten des französischen Frühklassizismus in Südwestdeutschland.
Östlich des Kurfürstlichen Schlosses am Ufer des Rheins liegen die Schlossstufen. Sie bilden eine 100 Meter breite Sitztreppenanlage und laden mit einer herrlichen Aussicht zum Verweilen ein.
Nördlich, unweit des Kurfürstlichen Schlosses, liegt das 158 Meter lange im neoromantischen Stil erbaute ehemalige preußische Regierungsgebäude.
Direkt davor befindet sich ein ehemaliger Rheinkran, dessen Sockelgebäude seit dem Jahr 1939 bis in die Gegenwart als Pegelhaus dient.
Auf dem Weg in die Innenstadt überquert man mehrere Plätze. Einer von ihnen ist der Görresplatz mit seiner Historiensäule. Diese ca. 11 Meter hohe Säule ist zugleich ein Brunnen und verdeutlicht die 2000 jährige Geschichte der Stadt Koblenz in zehn übereinander gereihten Bildnissen.
Im Rathaushof steht seit 1941 umringt von Renaissance- und Barockbauten ein weiteres Wahrzeichen der Stadt Koblenz. Der Schängelbrunnen.
Dieser Brunnen mit seiner Bronzefigur ist ein Denkmal für die Lebensfreude der Koblenzer Bürger. Die Bronzefigur sprüht alle drei Minuten einen kräftigen Wasserstrahl über das Brunnenbecken hinaus und durchnässt unachtsame vorbeigehende Passanten. Für Wissende eine lustige Angelegenheit. Nimm Dich in Acht!
Das Forum Confluentes ist ein im Jahr 2013 eröffnetes hochmodernes Kulturgebäude. Es steht auf dem Zentralplatz und beherbergt bisher in der Stadt verteilte Kultureinrichtungen (das Mittlerhein-Museum, die Stadtbibliothek, das Romanticum und die Touristen Information) an einem gemeinsamen Ort. Von der öffentlich zugänglichen Dachterrasse hat man einen wunderbaren Blick über die Altstadt von Koblenz.
Das lateinische Wort "Confluentes" bedeutet "die Zusammenfließenden" und leitet sich von der Lage der Stadt an den Flüssen Mosel und Rhein ab.
In direkter Nachbarschaft steht das Forum Mittelrhein, ein modernes innerstädtisches Einkaufszentrum.
Folgt man den Straßen der Altstadt Richtung Norden, gelangt man zur "Alten Burg" am Moselufer. Sie ist eine kurfürstliche Wasserburg aus dem 13. Jahrhundert und beherbergt heute das Stadtarchiv.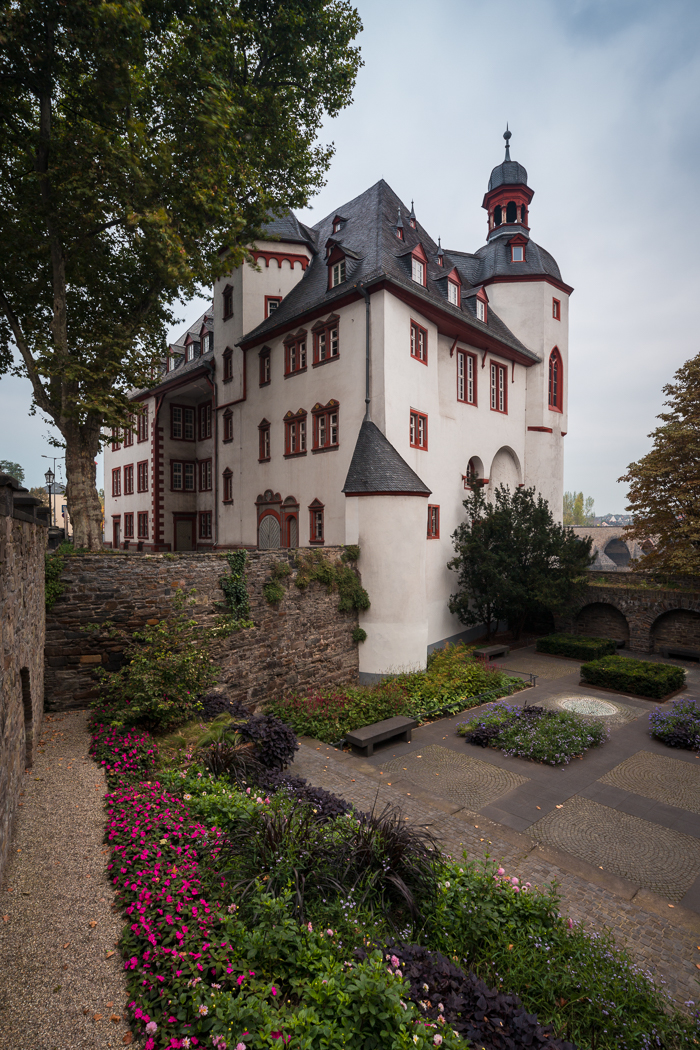 Direkt neben der Alten Burg beginnt die steinerne Balduinbrücke. Sie ist die letzte Brücke über die Mosel vor deren Mündung in den Rhein und die älteste erhaltene Brücke in Koblenz. Errichtet wurde sie im 14. Jahrhundert unter Kurfürst Balduin von Luxemburg.
Für Schifffahrt- und Technikbegeisterte liegt nur wenige hundert Meter von der Balduinbrücke entfernt die Staustufe Koblenz. Sie wurde 1951 fertig gestellt und ist die letzte Staustufe der Mosel vor deren Mündung in den Rhein.
Koblenz kann Ausgangspunkt für zahlreiche schöne Tagesausflüge sein. Das Land Rheinland-Pfalz bietet aufgrund seiner über 2000 Jahre alten Vorgeschichte viele kulturelle Schätze. Dazu gehören neben beeindruckenden Städten auch prachtvolle Burgen und Schlösser aus unterschiedlichsten Epochen.
Das Schloss Stolzenfels thront linksrheinisch über dem Koblenzer Stadtteil Stolzenfels. Im 13. Jahrhundert ließ der Trier Erzbischof Arnold II. von Isenburg eine Hangburg namens "Burg Stolzenfels" errichten. Anfang des 19. Jahrhunderts ließ der preußische König Friedrich Wilhelm IV. die Anlage zum prachtvollen Schloss umbauen.
Der Eintrittspreis beträgt derzeit 4 Euro.
Die Marksburg ist eine aus dem 12. Jahrhundert stammende Höhenburg oberhalb der Stadt Braubach am Rhein. Sie liegt in 160 Metern Höhe und ist die einzige nie zerstörte mittelalterliche Höhenburg am Mittelrhein.
Der Eintrittspreis beträgt derzeit 6 Euro.
Die Burg Eltz süd-westlich von Koblenz bei der Gemeinde Wierschem ist eine der bekanntesten Burgen Deutschlands. Die aus dem 12. Jahrhundert stammende Burg wurde niemals erobert und befindet sich seit mehr als 800 Jahren in Familienbesitz.
Der Eintrittspreis beträgt derzeit 9 Euro.
Hier gibt es mehr zur Burg Eltz
Die mittelalterliche Reichsburg Cochem ist das Wahrzeichen der Stadt Cochem. Sie thront auf einem Bergkegel oberhalb der Stadt.
Der Eintrittspreis beträgt derzeit 6 Euro.
Übernachtungsmöglichkeit:
Während meiner Zeit in Koblenz übernachtete ich im angenehmen Hotel Stein.
Das nur wenige Minuten vom Moselufer entfernte Hotel Stein ist ein liebevoll geführtes kleines Hotel im nördlichen Koblenz.
Mit seinen modern eingerichteten Zimmern, dem hervorragenden Service und den köstlichen kulinarischen Highlights, kann ich das Hotel uneingeschränkt empfehlen.
Warst Du auch schon einmal in Koblenz? Hat es Dir genauso gut gefallen wie mir? Lass es mich wissen!
Hinweis: METROPOLITANSPIN besuchte Koblenz als Gast der Rheinland-Pfalz Tourismus GmbH. Alle Meinungen und Erfahrungen sind und bleiben meine eigenen.
Dir hat dieser Beitrag gefallen?
Dann teile ihn mit Deinen Freunden auf Facebook und Pinterest!
You enjoyed this post?
Share it with your friends on Facebook and Pinterest!